Conformité Européene EN 250 for Scuba
European performance tests of SCUBA regulators are specified in the European Norm EN 250. For the purposes of certification, the breathing resistance of the air supply system must be within prescribed limits for inhalation and exhalation pressures and overall work effort of breathing, when tested at a breathing rate of 62.5 l/min, submerged in water at a pressure of 6 bar absolute. The below graph shows the work cycle of regulators for both Exhalation and Inhalation. The pressure in millibars of gas in the second stage is plotted against time.
Graph of pressure as a function of time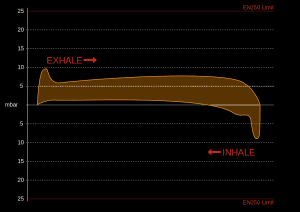 The Orange Area represents the net of the integrals for the Exhalation and Inhalation functions giving the actual energy required for a breathing cycle, called the Work Effort of Breathing. The negative peak is the vacuum required to open the demand valve, called the cranking pressure. Due to the venturi effect of second stages this pressure drops once the cycle has started. Likewise the positive peak represents the pressure required to push the diaphragm forward, closing the demand valve and opening the exhaust valve which again drops off.
Demand Valve limits are:
Work of breathing-                                                                                        <3.0 J/l
Peak respiratory pressure-                                                                       -/+25 mbar (inhalation or exhalation)
Inhalation work of breathing-                                                                    <0.3 J/l
Pressure spikes with no measurable positive work of breathing –      <10 mbar
Pressure spikes with measurable positive work of breathing –           <5 mbar
North Diving Limited testing equipment measures the Atmospheric Inhalation Resistance, AIR for both dynamic and static Inhalation Pressures. The peak pressures including the cranking (static) pressure and the average (dynamic) pressure over breathing cycles to ensure that a scuba regulator demand valve functions correctly at atmospheric pressure.
Also North Diving can independently compare the performance of different brands and models of scuba regulators, the performance of the first stage, the differences between primary and alternate second stages for customers all tested independently. Using these tests at diver level you can see if the regulator is functioning correctly, how it supports an octopus and most importantly if the regulator would benefit from an early service rather than waiting for the scheduled service interval.
Cost £10 for testing a regulator set, not including carriage.
Cost £97.95 + £4.99 for North Equipment – hand held Digital Magnehelic for this testing is available from our ebay shop.
Cost £100 for Equipment Specialist Course which includes diver training on using this test equipment.
Coming soon:- Test Bench Magnehelic with Diagnostic Software for use on a Microsoft PC or notebook via a USB port at £449.
Please contact us for more information.